Meditation in Motion-The Art and Science of T'ai Chi Ch'uan
Experience for yourself the accumulated wisdom of centuries with the timeless exercise of Tai Chi Ch'uan. Improve your health and balance, feel more energy, and still sleep better. Learn to use your Tai Chi principles to alleviate chronic stress, and everyday aches and pains. Step out of the ordinary and take the first steps on the road to a healthy longevity. The flowing meditative exercise of Tai Chi Ch'uan and Qi-Gong can be a powerful complement to medical intervention, and in many instances, may allow a physician to significantly reduce a patient's drug dosage or eliminate the need for medicine altogether. Get the benefits of exercise you need without the wear and tear of other forms of exercise.
Core Concepts from the Classics
To get the most out of Tai Chi Ch'uan and Qi-Gong, learning the form is not enough. The serious student must strive to understand and embody the core concepts in Tai Chi as laid out in the Tai Chi Classical literature. In analyzing the Tai Chi classical literature we can define 5 principles of mind body coordination, contained in the Tai chi Classics.
Is there a class today?
Classes are offered Monday through Saturday. Click on the areas of town to get additional information.
Mon
8:30 & 9:15am   9:30 & 10:15am   11am
6 & 6:30pm
Tue
8:30am
4:15pm
Wed
8:30 & 9:15am    12Noon
Thu
8:30 & 9:15am
Fri
8:45 & 9:30am
4:30pm
Sat
8:00 & 8:45am
Private Sessions can be scheduled anytime.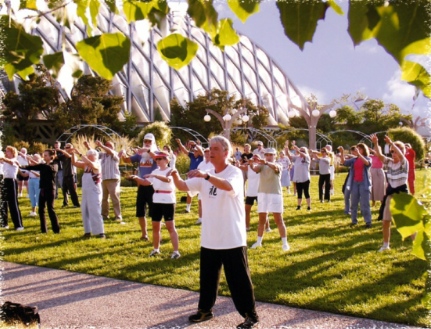 Tai Chi Project fees for classes
All classes are open to beginners.
Beginner classes and workshops are marked as such.
$75 per 4-week beginner series
Those marked "Skilled" and "FLOW" are more difficult, but if newcomers can relax and follow along, they do fine.
Tuition per 12-Week Semester

 - Unlimited Classes  $180
One-time Registration Fee  $15
Ongoing students may register for 1 Class/week or 12 classes/3 months $108
Drop-ins are allowed with instructor permission $20